Water during winter
Breaking ice to allow oxygen to get to fish is never a good idea. Instead, keep a rubber ball on the surface of your pond that can be easily removed to allow a window in the ice which can be tapped by birds during the day.
Newly planted evergreens will be vulnerable to drying out if their roots have not yet made proper contact with the soil. Water during periods of thaw for the first winter.
Never overwater in winter, as cold and water in combination can be lethal. Keep an eye on container-grown plants that may dry out in a windy position. Check the frame if you have one to keep plants just moist, never wet. If you are growing indoor cyclamen, wait until you see them just wilting, then soak in a tray of water. Keep them in a cool room.
Planting plans
Plant deciduous trees and shrubs in mild weather, but be careful with wet soil. Sandy soils are less prone to compaction, but heavier soils are vulnerable when waterlogged. Use boards to cross beds and lawns.
Force of habit
I like to keep a number of bulbs in pots to steal a march on the season. Never force too aggressively – my hardy bulbs are kept in the frame or against a warm wall. Wait until you can see the papery tunics of Iris reticulata and crocus before bringing them inside, but never straight into an overheated house. Keep them in a porch or an unheated room until you can see they are on the move.
Tender bulbs such as hippeastrum and cymbidium orchid should also be kept cool. Too much heat will abort orchid buds and provoke the hippeastrum to race ahead too fast. Both like winter light, so keep in a bright position. Paperwhite narcissus rarely blooms a second year, but the jonquil 'Scilly White' may if put outside to replenish itself.
What's in store
Check uninsulated sheds. Dahlias stored in compost should be kept just moist, as should resting pelargoniums. These like dry dormancy and will be most vulnerable to overwatering.
Cutting back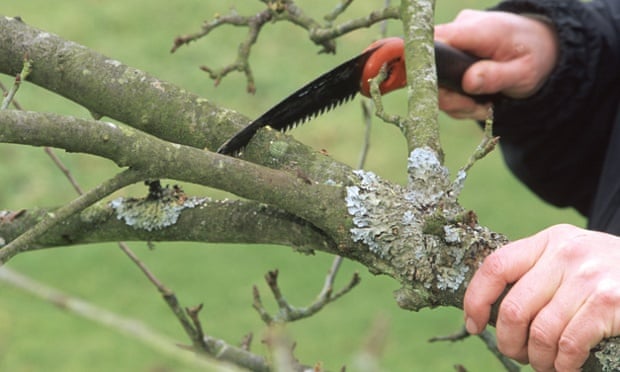 Vines, birch and mulberry are prone to bleeding if not pruned in early winter. Vines should be taken back to a simple framework of just a few stems with room between the limbs for light. Lateral growth can be taken back to two buds. It is also time to prune apples and pears.
Pruning equipment should be kept sharp. Never force a cut, or you will make a raggedy wound that will be more prone to infection. If you have to strain, move up to a larger implement such as loppers or a hand saw. Think about where you make your cut first, and make two cuts on heavier branches, one for removal, to avoid a tear, the second as a point of precision. Enjoy every moment, and never rush your pruning. The rest of the garden can wait.
Email Dan at dan.pearson@observer.co.uk or visittheguardian.com/profile/danpearson for all his columns in one place